Bangor District Court
Important update:
eFiling is now available in the Bangor District Court. eFiling is mandatory for attorneys in family matters, small claims, forcible entry and detainer (eviction), foreclosures and other civil matters.
Learn more
Address
Penobscot Judicial Center, 78 Exchange Street, Bangor, ME 04401
Contact
Acting Clerk: Diana Durgin
Phone: (207) 561-2300
TTY: 711 Maine Relay
Hours of Operation
Monday through Friday 8 a.m. to 4 p.m. except for Court Holidays, Administrative Weeks and closings due to storms or emergencies.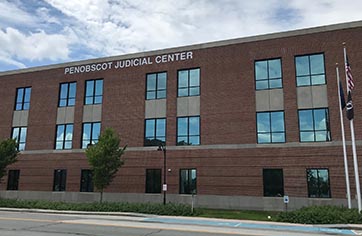 Parking
There is limited parking on Exchange Street. For information on additional public parking, go to the Republic Parking System website.
Restrictions
No firearms, knives, or weapons of any kind.
No food or drink in courtrooms.
No cell phones, cameras, or other electronic recording devices in courtrooms.
No pets, except service animals.
See also Visiting a Courthouse
ADA Accessibility
Learn about accessibility in Maine courts or request an accommodation. For specific information regarding accessibility at this court location contact:
Court Access Coordinator
Phone: (207) 822-0718
TTY: 711 Maine Relay
Email: accessibility@courts.maine.gov