Home → Information for Students & Teachers
Information for Students & Teachers
A basic understanding of our justice system and its role in preserving and protecting our democracy is critical for students of all ages. This page lists programs offered by the Judicial Branch to promote a better understanding of how the courts in Maine work and provides links to informative, nonpartisan resources and websites.
Law Day 2023 "Cornerstones of Democracy: Civics, Civility, and Collaboration"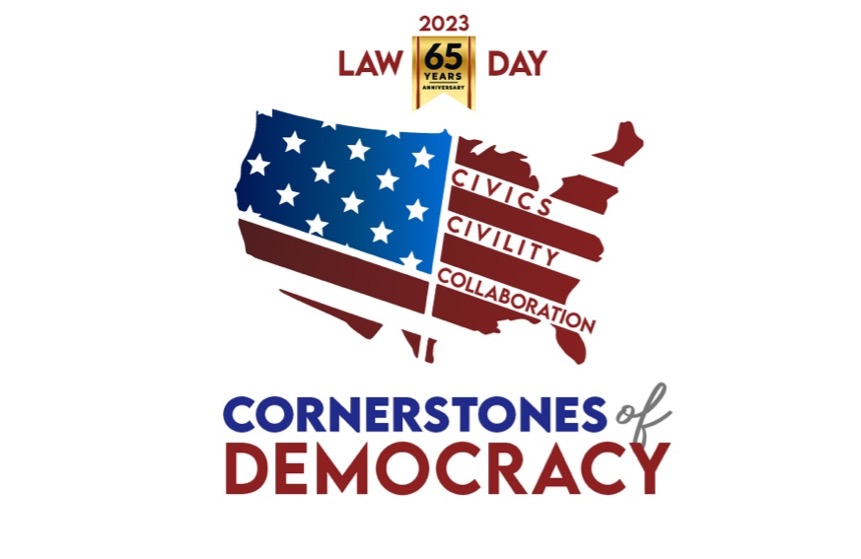 Law Day is observed on May 1st and throughout the month of May. Established in 1958 by President Dwight D. Eisenhower, Law Day was started to celebrate the rule of law in a free society and the importance of understanding how law and the legal process protect everyone's liberty, freedom, and pursuit of justice.
The theme for 2023 is "Cornerstones of Democracy: Civics, Civility, and Collaboration."
"In recent years, tensions in our democratic system have revealed deep divisions in American society. These divisions are aggravated by incivility in public discourse and insufficient understanding among many people about the Constitution and the way American government works. Together, however, we can collaborate to overcome our differences, resolve our disputes, and preserve our democracy and republic."
— From the American Bar Association's Law Day 2023 web page.
Explore Law Day 2023 Activities and Resources
Judicial Branch Activities
High School Visits by the Supreme Judicial Court
For more than ten years, the Supreme Judicial Court has scheduled and held oral arguments in appeals before the Court to give students a sense of how the appellate process works. Following oral argument, Justices meet and answer questions from students and faculty. Visits are generally scheduled for October and are coordinated by the Judicial Branch's Office of Court Communications with one or more state legislators from the district where the high school is located.
Courthouse Visits and Tours
One of the best ways to understand how the court system works is by visiting a courthouse and sitting in on a trial or proceeding. Maine courthouses are open to the public Monday through Friday and court proceedings are generally public, except for case types that are designated confidential by law.
For teachers and community groups
If you would like to schedule a tour of a courthouse with your class or group, or sit in on a trial or oral argument before the Supreme Judicial Court, please contact Barbara.Cardone@courts.maine.gov for more information and to facilitate a visit.
Educational Resources
Selected resources on civics, government, and law of interest to students, teachers, and the public.
Questions?
Contact
Barbara.Cardone@courts.maine.gov
, Director of Legal Affairs and Public Relations.