Visiting a Courthouse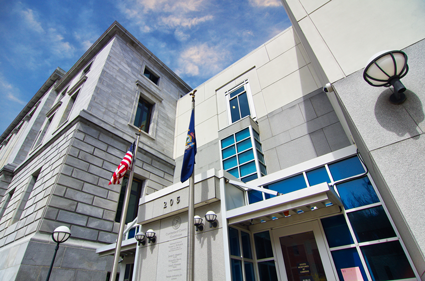 Tens of thousands of people visit Maine courthouses every year. The Judicial Branch's first priority is to provide a safe, secure, and comfortable environment and to ensure that our court facilities are accessible to all.
Safety
Entry Screening
Every person entering a courthouse is required to go through security screening. Most courthouses are equipped with scanners. If so, you will be asked to:
Empty your pockets, remove large metal jewelry and belts as instructed and place contents in the container provided;
Place overcoats, purses, briefcases, backpacks, parcels, and other items on the scanner belt; and
Walk through the metal detector.
Not permitted in the courthouse
Weapons of any kind, including firearms, ammunition, knives, or explosive devices;
Any object, implement or tool that could be hazardous in the courthouse;
Smoking and use of tobacco products;
Use of alcohol, cannabis, or illegal drugs; and
Pets or animals (with the exception of service animals).
Clerk's office
The courthouse clerk's office provides many services, including:
Information on a case you may be involved in, including dates of upcoming court events;
The ability to accept court papers, filing fees, and fine payments;
General information about court rules, laws, and procedures in a case;
Court forms;
Legal information guides;
A "language line" at the clerk's office to assist limited English proficient (LEP) people;
Assistive listening devices and assistance for individuals with disabilities; and
Information on how to find a lawyer and legal assistance, including free legal assistance.
Court clerks are dedicated to providing the best possible service to the public, but clerks and other Judicial Branch employees not allowed to give legal advice.
Legal assistance through the CourtHouse Assistance Project (CHAP)
Brief, free consultation with a volunteer lawyer is available for individuals who cannot afford a lawyer in divorce, child custody, and related matter through the Volunteer Lawyers Project (VLP) CourtHouse Assistance Project. For more information, see the web page on the VLP website here: https://www.vlp.org/about/#family.
If you are coming for a court case
These tips will help improve your experience
Make sure you know where the courthouse and parking are located ahead of time and plan accordingly. Parking is limited at some courthouses.
Be on time for your case.
Dress appropriately.
Don't bring young children into the courtroom or leave children unattended.
Don't bring food or drink into the courtroom.
Turn off or mute your cell phone in the courtroom.
Stand when the judge enters the courtroom and remain standing until directed to be seated and stand when the judge exits the courtroom.
Address the court as "judge" or "your honor."
Address opposing parties, counsel, witnesses, and court staff as "Mr.," "Mrs.," "Ms.," "Miss," and "Dr."
Do not approach the judge's bench without permission.
Do not interrupt the judge or others while they are speaking. You will have a chance to speak when it is your turn.
All courthouses offer public waiting areas, restrooms, and public wi-fi.
Some courthouses have lactation rooms for nursing mothers.
Find a court location
See Find a Court, District Court, Superior Court, Supreme Court